Event

Cip in Vigezz and Ciaspolacongusto have been canceled

22 January 2012
Santa Maria Maggiore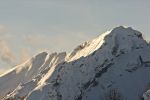 The events scheduled for Sunday 22nd January 2012 in Santa Maria Maggiore, Vigezzo Valley, such as Cip in Vigezz and Ciaspolacongusto, have been, unfortunately, canceled.
The decision was necessary made ​because of lack of snow on the path, not even expected in the coming days.
For further information please contact Area Libera.


Contact
Area Libera
Web: