News

Lago Maggiore Green Meeting in Rome for Youtobegreen
The future event industry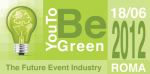 Lago Maggiore Green Meeting, the first "sustainable" conference destination on the Italian and Swiss markets, is taking part in Youtobegreen – The future event industry, in Rome on 18 June 2012. This is the first "Hybrid Event" devoted to Green Meetings, sustainability and innovation in events.
As one of the prime event destinations on the international scene, Lake Maggiore is ready to be considered a leader in the market of events and conferences with a low environmental impact in the Piedmontese provinces of Verbano Cusio Ossola and Novara, the Lombard province of Varese, and the Swiss part of the lake around Locarno.
Youtobegreen offers a programme of seminars and meetings to be held at the SGM Conference Center in Rome; participants can choose from a variety of possibilities of highly qualified and innovative professional training, free of charge.
Contact
Youtobegreen
Web: