Point of interest

Church of Santi Ambrogio and Theodolo
Stresa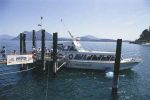 The Parish Church of Stresa, Santi Ambrogio and Theodolo, looks onto Lake Maggiore from its location at the corner between Viale Umberto I and Via Principessa Margherita.

The Church was built in 1790 on a Greek cross plan to a design by Abbot Giuseppe Zanoia from Omegna, and has a Neoclassical façade with two sculptures of musician angels. The interior has three altars: the one on the left is adorned with a fine painting of the Crucifix and Saints Charles, Francis and Anthony by Il Morazzone; the main altar in the middle is surrounded by 17th century Lombard paintings of St Ambrose; and the one on the right guards the mortal remains of San Vitaliano, a baby martyred by the anti-Christian fury of the Romans in the year 260, at the age of ten months and twenty-eight days. In 1833 his tiny body was removed from the Catacombs, and Pope Gregory XVI granted the request of Anna Maria Bolongaro to take it from Rome to Stresa, where since 1835 San Vitaliano has been venerated as a protector of children.
Stresa's parish church, like the town, has been the scene of important historical events. An example is the funeral in the church in August 1912 of Elisabeth of Saxony, the Duchess of Genoa, in the presence of her daughter Margherita, the Queen of Italy by virtue of her marriage to Umberto I. The Duchess had resided for 55 years in her beloved Stresa.
How to get there
By car: from the A26 motorway exit at Brovello Carpugnino or Baveno for Stresa. The church is on the lakefront, Corso Umberto I, opposite the large car park in front of the boat station.
By train: the nearest railway station is Stresa.