Point of interest

Sass dal Pizz and Monte Cornaggia
Nebbiuno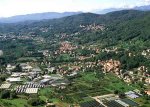 The itineraries that lead from Nebbiuno to Sass dal Pizz and Monte Cornaggia, in the area of Lower Lake Maggiore, have in common the presence of cup marks and cruciform engravings.
Various interpretations have been attributed to these engravings. For cup-marks, there is a sacred interpretation which sees them as an indication of the place where the blood of sacrificial victims flowed or as a religious symbol connected to the cult of the dead or even as a form of devotion with the purpose of collecting water and food for the deceased.
The cruciform engravings are, on the other hand, interpreted as a stylised anthropomorphic symbol and as a symbol that is evidently connected to the spread of Christianity.
The Sass dal Pizz, an imposing rocky spur about 100 metres from the large cross of Monte Torriggia (912 metres above sea level) to the North-East has a large number of these cup-marks. Used as a climbing wall, the rock face offers a magnificent view over the whole of Lake Maggiore.

Other rocks with rock-carvings can easily be seen along the easy path which, from here, in about thirty minutes leads to the summit of Monte Cornaggia (920 metres above sea level), another exceptional panoramic view-point for admiring Lake Maggiore, Mottarone and Monte Rosa.
It is especially on the slopes of both these mountains that small erratic masses can be found bearing numerous rock carvings. You can find a small, ancient cross (10 by 15cm) engraved on the boundary stone between Massino Visconti and Nebbiuno, in the area called Poggio Alto, beside which can also be found the boundary cross dating from the second half of the 19th century.
How to get there
By car: exit the Voltri-Sempione motorway at Meina and drive in the direction of Nebbiuno. Shortly before entering the village, take the asphalted road that leads to the right with indications for Poggio Radioso and Poggio Alto. The road rises rapidly through a wood and continues amongst numerous villas. After the last of the villas, look out for a small crossroads with a dirt road, close to Alpe Ostobbio, turn left (towards Fosseno) and continue for about 100 metres until you reach a broad opening close to a stream. Here, park your car. Above the opening there is a steep rock-face: the Sass dul Pizz
By train: the nearest railway station is Meina.