Gardens, flowers and villas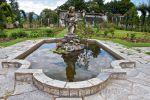 An outstanding feature of the Lake Maggiore area is its large number of magnificent aristocratic mansion houses, built primarily on the shores of the area's lakes.
Many of them overlook the Borromean Gulf; the beautiful Villa Fedora is situated in Baveno, while Villa Aminta in Stresa has become a luxury hotel. Villa Giulia and its garden in Verbania Pallanza host a variety of exhibitions and concerts, and Villa Ponti in Arona is the venue for major international art exhibitions.
The exotic Villa Crespi by Lake Orta has become famous for its Michelin restaurant, while Villa Angeli De Frua in Laveno Mombello on the Lombard shore of Lake Maggiore has a splendid example of a lakeside park with magnificent old trees.
A major feature of these villas is their marvellous gardens, many of them world famous; don't miss a visit to the Botanical Gardens of Villa Taranto in Verbania, and the spectacular gardens on Isola Bella and Isola Madre.