Divedro, Antigorio and Formazza Valleys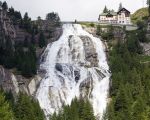 The Divedro Valley, the route to the Simplon Pass, links the Ossola with the Valais canton in Switzerland.
The valley is studded with villages, of which Varzo is the main centre; the lateral valley of Cairasca extends from here to San Domenico and farther up to the beautiful broad cirque of Alpe Veglia, a protected area sharing the status of Natural Park with Alpe Devero. Dominating the northern part of the Divedro Valley is Trasquera close to the Swiss border, high up on a natural terrace permanently exposed to the sun.

Returning towards Domodossola, you come to the village of Crevoladossola, the gateway to the Antigorio Valley, the valley of the River Toce. With its large villages of Baceno, Premia and Crodo, Antigorio offers a wealth of itineraries of both scenic and cultural interest. The valley ends at Premia, where there is a natural hot water spa.

Formazza is the upper part of the Toce valley after Foppiano, where it opens out into a wide high plateau with majestic peaks on all sides. The wild, rugged landscape is the setting for the spectacular Toce Falls (143 mt), and offers a large variety of hiking trails in a high mountain environment of grassy heath and Alpine tarns.