Sport for all tastes, on lake, mountain and hillside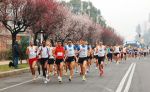 Sport with a view: whatever your level of expertise, the Lake Maggiore area can offer the sport for you, in glorious surroundings.
A variety of paragliding and hang gliding launch points let you reach for the sky from the mountains surrounding the lake. For lovers of free flying the experience of soaring above the lake will be unforgettable. Gliding is also available from small local airports.
For those who prefer to have their feet on the ground, there is a range of sports on offer. Mountain biking is hugely popular, or you can go horseback riding in one of the riding schools in the lovely Ossola valleys, on the Novara hills or by the side of Lake Maggiore. Tennis and beach volleyball courts are everywhere in the area.
Mountain sports lovers are in their element here, with endless opportunities for hiking, mountaineering, Nordic walking, rock climbing and bouldering. Indoor climbing is also available in gyms with up-to-date equipment.