Snow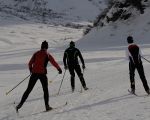 Snow lovers will find some of Italy's best ski trails in the area surrounding Lake Maggiore.
Riale, San Michele and the Formazza Ski Centre in the Formazza Valley offer facilities for downhill and cross-country skiing. Alpe Devero in the Antigorio Valley is renowned for freeride snowboarding, and San Domenico in the Divedro Valley for its downhill runs.
The slopes of Domobianca on Monte Moncucco offer the nearest downhill runs to Domodossola. Beginners will be happy with the easy pistes at Cheggio in the nearby Antrona Valley, while in the Anzasca Valley experts will enjoy the more demanding runs on the high slopes of Monte Moro and below the Belvedere glacier.
You can also ski with a view of the Borromean Gulf, on the slopes of Mottarone above Stresa, or at Pian di Sole above Verbania.
Alpe Mera in upper Val Sesia is a centre for ski mountaineering, and the Brinzio Cross-country Ski Centre on the Lombard side of Lake Maggiore is an excellent place for Nordic skiing.