Water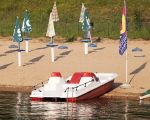 For all sports enthusiasts, Lake Maggiore has a lot of offer, especially in the world of water sports: canoeing, kayaking, rafting, sailing, water skiing and scuba diving.
Sailing is one of the most popular water sports. An important sailing date is the Verbania Vela Festival in June, with regattas, concerts and food and wine events taking place along the shores of the lake.
The rivers of the surrounding valleys are ideal for rafting and kayaking, while diving locations abound near the Lombard shore.
DISCOVER THE TEMPORARY MOORING: click here